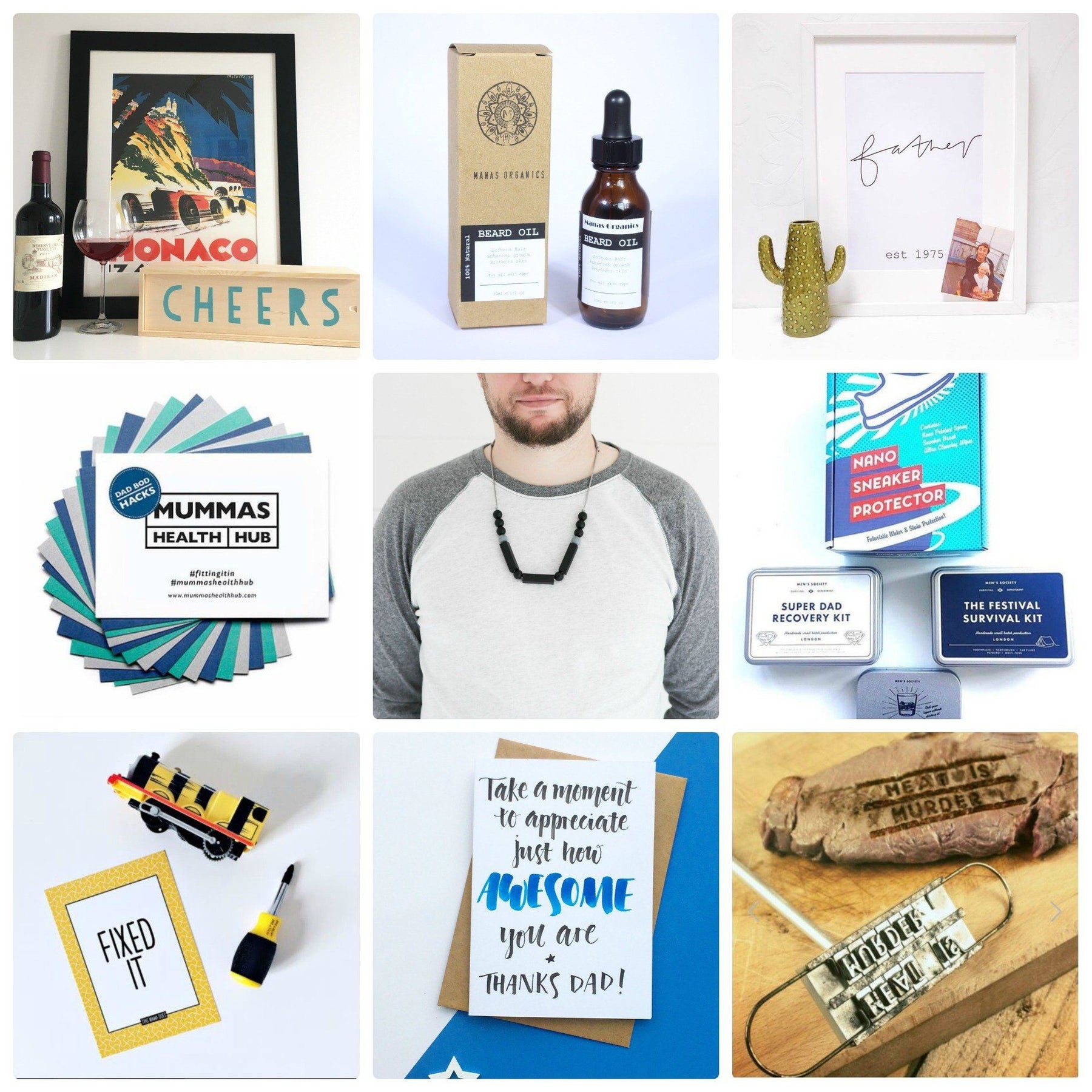 Father's Day Gift Guide
Alright ladies. It's time to start thinking about the man in your life as if you're anything like me you might have forgotten that it's Father's Day on Sunday 18th June (baby brain is here to stay). And if you're really like me you don't have time / can't be bothered to pace the high street and trawl the net for the best gifts.

But, ta dah! This year, I've not only trawled the net for the best man loving gifts around, but I've also compiled it into a top ten list. So here it is.
1 - Mumma's Health Hub: Dad Bod Hacks / £12.95
The ever so lovely Jemma, a personal trainer and mama of two, came up with these awesome exercise hacks. She found that she was struggling to fit in a proper fitness session with two kids, so created these flash cards which feature exercise prompts which you can do while making the kids' dinner or catching up on your favourite box set. My favourite one is the Foo Foo Mending card. Hilarious.
But enough about the cards for Mamas, this is about the Dads. She's just launched her Dad Bod hacks and these are just genius. Tongue-in-cheek, witty exercise hacks that i'm sure all men will love. So Mamas, get these if you want to come home to not just a six pack of beer in the fridge but a six pack on your man.
https://www.mummashealthhub.com/product-page/copy-of-mummas-health-hub-pack-of-hacks
2 - Boo Chew: Flynn Teething Necklace for Dads / £13.95
This, is for the Dad who has everything. For the Dad who is tired of chest hair pulling and beard pinching. For the Dad who likes to baby wear. For the Dad who wants to keep their baby entertained while having a cuppa. For the Dad who wants to help soothe his baby's sore, teething gums. 
Stylish and discreet this is a necklace for all Dads.
https://www.boochew.com/products/teething-necklace-for-dads-to-wear
3 - Manas Organics: Beard Oil / 30ml £12
The time of the man beard is here. My husband has had a beard since circa 2011 so he was well ahead of the beard trend. As a man who knows a thing about beards, he swears by a good beard oil, especially as it moisturises his skin underneath all that fuzz.
So why not treat your partner to this fragrant beard oil, designed to promote hair growth, soften hair, reduce itchiness and protect and hydrate underlying skin. It contains 7 different essential oils, including Jojoba oil, coconut oil and almond oil, one of which is an aphrodisiac. Ooh err. Plus it's 100% natural and comes in a kraft gift box. Bonus.
https://www.manasorganics.co.uk/product-page/beard-oil
4 - Flat 101: Screen Printed Wine Box / £10
A good bottle of wine is the perfect present to say Thank You to Dads and Grandads this Fathers Day so why not make it even more special with one of these hand printed wine boxes!
Each box is individually silk screen printed using waterbased non toxic inks. 
And I love a present that is not just for them it's for you, as this will look great on your kitchen counter top or in the diningroom.
https://www.etsy.com/uk/listing/521248170/screen-printed-wooden-wine-box-fathers
5 - This Mama Does: Daddy Milestone Cards / £9.95
We love This Mama Does here at Boo Chew HQ. Alternative parenting milestone cards, there is literally a card for every parenting occasion. These help Dads navigate the everyday ups and downs of fatherhood with a smile and a photo (and a pint!).
This Mama Does Daddy cards are a fun gift for Dads to celebrate the realities of fatherhood in a humourous way. Because parenting isn't all high days and holidays, its the every days in between that really count.
Card quotes include: 'Don't tell Mummy', 'I need a pint', 'Fixed it'.
http://www.thismamadoes.co.uk/product/mama-daddy-cards/
6 - Meraki Gift: Various Gifts for Dads ranging from £15 - £25
If you live in London you must visit Meraki Gift. Not only is this an awesome gift shop, it's a gift shop in a truck. A gift truck if you will! Nadia stocks her truck up with the coolest independent finds that are super unique and that extends to her gifts for Dads. You can find sneaker protection kits, whiskey cooling rocks, a Super Dad Recovery Kit and Festival Survival Kit to name but a few things.
She can be found at Highgate market most weekends, but if you can't get to her truck you can email her at: nadia@merakigift.com and she will pop them in the post to you.
Check out her instagram feed as well: www.instagram.com/merakigift
7 - In No Particular Order: Just A Line Father Print / £15
Father's Day made beautifully simple. This absolutely stunning print is bound to put a smile on the father in question's face. This maybe just be a line but it means so much as you can add the year that they became a father. A winner all round, this will look great on any wall in your home.
https://www.notonthehighstreet.com/neavedesigns/product/just-a-line-father
8 - Firebox: BBQ Branding Iron / £14.99
We've just bought our first adult BBQ and my husband has adopted all male stereotypes when it comes to men and their BBQs. If your partner is equally obsessed with his BBQ, then I think this could be a pretty cool present.
A branding iron which you can personalise to say anything you want, perhaps branding each steak with your friends names or even a heartfelt message.
https://www.firebox.com/BBQ-Branding-Iron/p2362
9 - Morgan Makes: Father's Day Card / £3
If you're looking for a card for your Dad or for your kids to give to your partner then this is a super cute one from Morgan Makes. This card is made to order, and handwritten so you can personalise colours if you wish.
https://www.etsy.com/uk/listing/521190256/handwritten-white-and-blue-fathers-day
10 - You / Free
I know this is super cheesballs but at the end of the day presents are incidental on a day like this. Yes, they are a lovely token to show you appreciate someone, but nothing says I love you more than spending time with your loved one. So why not make him a cuppa in bed or give your Dad a call and tell them how much you love them.