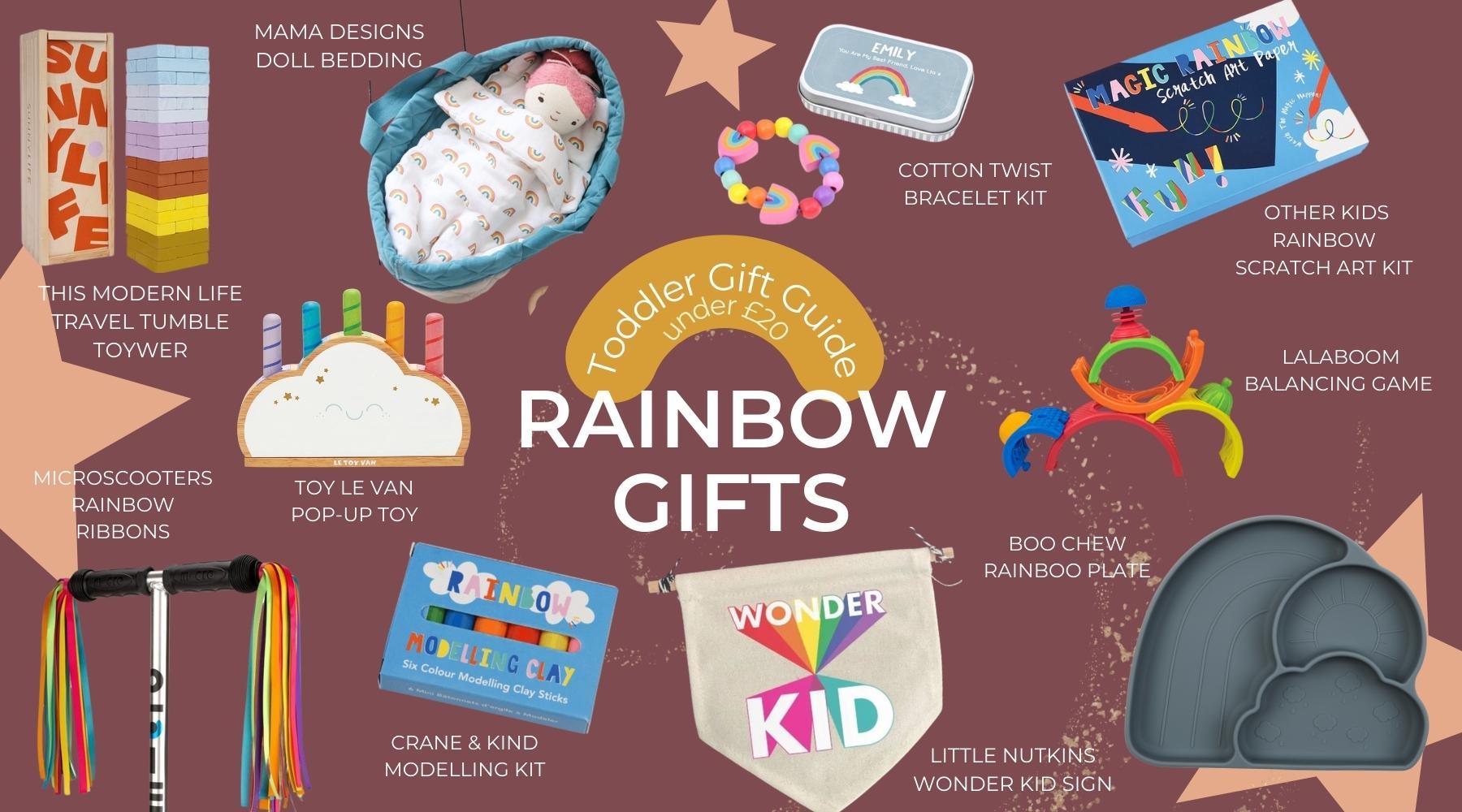 Our Rainbow Filled Gift Guide - Toddler Edition
We love the excitement on children's faces when they first spot a rainbow in the sky. For us, rainbows represent positivity and happiness and so we are always looking to add more rainbows around our house, especially in my little girl's bedroom as she is obsessed! We have scoured the internet and found lots of rainbow gifts from some amazing independent brands and we have listed them all here. We've made sure that all gifts are under £20, and are suitable for toddlers and up.
We've included clickable links to each product, which are all from Small Businesses we love to support. 
We are huge fans of all things Cotton Twist here at Boochew. We absolutely love this rainbow bracelet kit which comes with a handy little trinket tin for your little one to store their treasures. Cotton Twist also does a larger kit that makes 10 bracelets, still under £20!
Of course we had to include our Rainboo plate - our new product of 2021! Available in three beautiful colours, the cute rainbow design not only helps to make mealtimes fun but helps little hands scoop up their food with ease.
We know lots of little people who'd love to have this gorgeous wall hanging adorning their bedroom walls, helping them start the day with a boost of positivity!
We used to love scratch art when we were little and so we were so excited to find this kit on our hunt for the best rainbow gifts - the perfect activity for a lazy afternoon.
This mini pack of rainbow modelling clay which includes six colourful clay sticks would make a great stocking filler. 
Who doesn't love a game of tumbling blocks? This Sunnylife tumbling tower from This Modern Life is an updated version of the family favourite. The rainbow coloured blocks would go down well in our house. We also love its travel size - great to keep in the car for unexpected stopovers/picnics
How adorable is this rainbow doll bedding set? The set includes a pillow and a padded quilt so your child can share their love of rainbows with their little friends.
As always, Le Toy Van delivering another perfect gift - this time in the shape of this cloud rainbow pop up toy
Check out this game from Lalaboom -  5 arches of different rainbow colours and 4 educational beads of different colours and shapes to develop fine motor skills. We are sure children will spend endless hours of time playing with this.
These look like lots of fun - we'd love a version to hang from our car!
Are we missing anything? What rainbow toys do you have at home that we are yet to discover? Head over to our Instagram page and share the love.