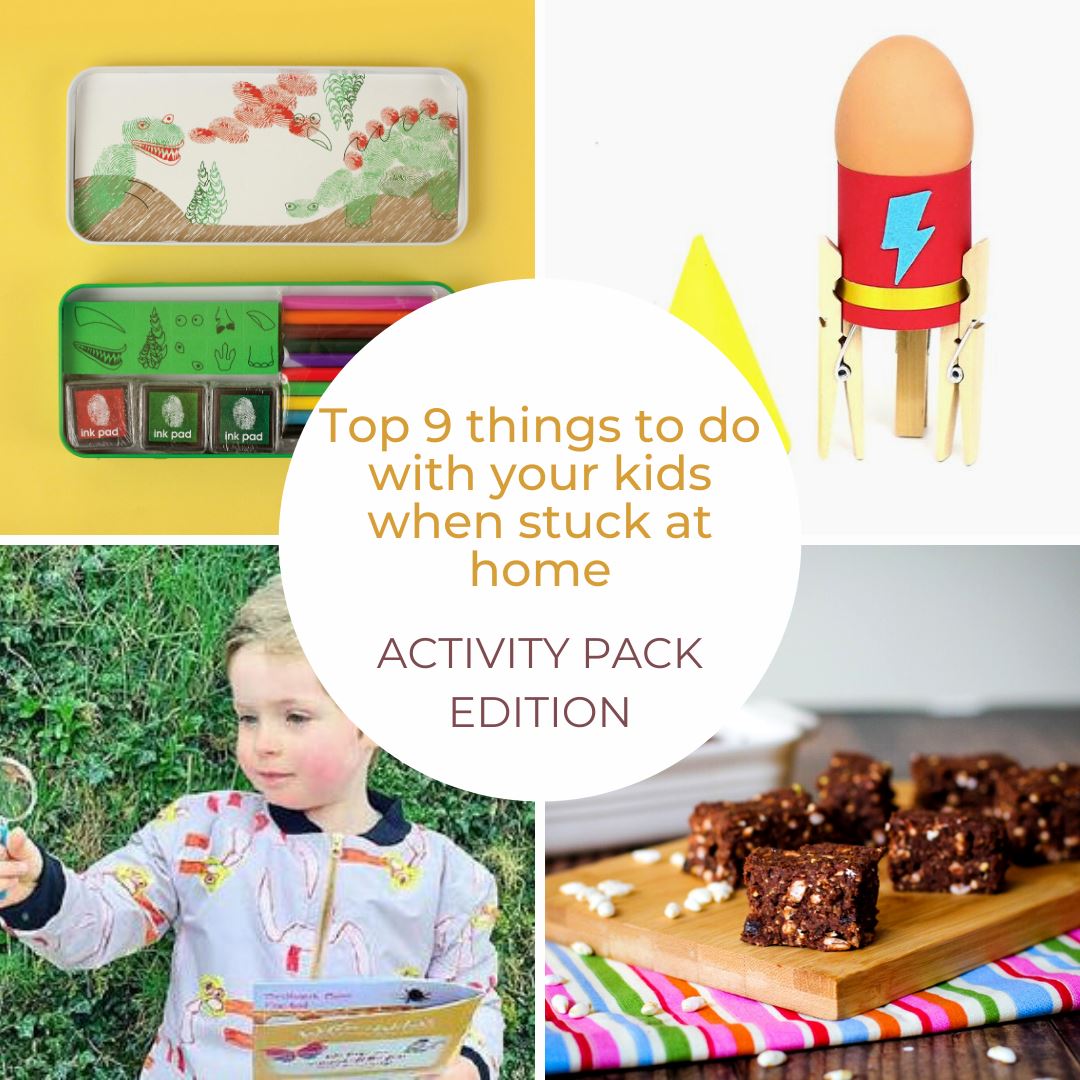 Top 9 things to do with your kids when stuck at home: Activity Pack Edition!
Recently I've been looking at ways to entertain my almost five-year-old while we are stuck at home. Not only because of the self-isolation policies in place due to Covid-19 but also because chicken pox is rife in our village and he's never had it. The likelihood is that we will be stuck at home for at least 14 days in the very near future and I want to be prepared!
The reality is that as parents we will probably be juggling working from home while looking after our child, or we have more than one child to look after. Having some ideas of how to entertain your child planned ahead of time (apart from the tv) is definitely something we should have in our arsenal, at the very least to help keep our sanity but also to help you crack on with what you need to do.
So, during my browsing yesterday I found some quite frankly amazing activity packs, many from small businesses in the UK who need our support more than ever. All are great to keep and store when time comes and many have more than one activity so you can space across multiple days making them cost effective. I thought by making this list and having it in one area will hopefully save you some precious time searching for it on the web!
1 – Explorer Tots
Run by parents Tom and Sarah, Explorer Tots boxes are based around a single theme either in science, space and woodland. Each box contains four fab activities including all the materials, instructions, fun fact cards to talk about together and other ideas to explore the theme of the box.
Perfect for children aged 3-8.
Boxes are £23.99 and include free shipping
https://explorertots.com/collections/explorerboxes
2 – Little Cooks Co
A monthly subscription, or a one-off box, Little Cooks Co is an award winning baking kit, which are healthy, organic and designed by a qualified nutritionist. Yes, it's a little more hands-on, and something to do with your kids, but at the end of it you get a delicious treat which you can have with a cuppa and eat while they're watching tv. Kits come with all dry ingredient and have a 3 month shelf-life which is great for storing until you really need it.
Perfect for children aged 3-10
Baking kit subscription starts from £8.99 or £12.99 for a one off box
https://www.littlecooksco.co.uk/
3 – Willow & Wild  
If you want to get your child out in the garden and learning more about nature, indoors or outdoors then Willow & Wild is for you - a subscription box (or one-off box) inspired by nature growing and creating! Each box contains 2 nature inspired craft projects and all the materials you need for it, vegetable and flower seeds, growing instruction cards and recipe cards to cook what you have grown or something seasonal! Plus it pops through the letterbox, so no need to head to the post office for a missed delivery .
Perfect for children aged 3-8 years
Starts from £15.95
https://www.allbymama.com/product/willow-wild-box-one-off-siblings-letterbox/
So you know you should probably be helping your child with their learning journey but don't know where to start? Little Writing Company has you sorted. Activity books and notebooks designed by teachers to not only be fun and engaging but help improve writing and literacy skills. All activity books are age appropriate. Jo, the founder even has some free worksheets available to download. What a generous woman!
For children aged 5-11 years
Handwriting books start from £8.95
https://littlewritingcompany.uk/
5 – Play Hooray
OK, so it feels like day 5038 stuck in the house and you have no idea what to do with your child next, let alone the headspace to think of something to do? Well, you really need Play Hooray's play prompts. A 100 pack of play ideas and activities for toddlers and pre-schoolers for age 1+ that are fuss-free, quick to set-up, and suitable for indoor and outdoor play. Designed to keep your child occupied for ages (hooray!) you can finally go and get some things done!
Perfect for children aged 1-5 years
Original play prompts from £12.50
At some point I have envisioned that I'm going to have to get crafty. Kids just love to get messy with glue and cotton wool balls – what's with that? We have the standard paper, pens, paints, scissors glue but as someone who isn't naturally crafty I never know what else to buy. This craft tub is full to the brim with foam pieces, stickers, glitter glue, shredded tissue etc. Basically everything your little magpie will need to create, create, create. Plus it's only £5 – bargain!
Perfect for children aged 3+
https://www.hobbycraft.co.uk/craft-planet-craft-tub-200-pieces/650480-1000
7 – Keep em quiet
Keep em quiet bags aren't just for journeys or going on holiday, if you really need 30 minutes to yourself then give them a Keep em quiet bag. Bags are themed by age group and sex. Stuffed with magazines, books, puzzles, toys, snacks your child is all set to go, and so are you. Get that cuppa and put your feet up!
Perfect for children 1-5+ years
Bags start from £13.99
8 – Cotton Twist
Another crafty one! We are BIG fans of Cotton Twist. We've bought lots of superhero themed crafts as well as party bag fillers. I love Cotton Twist so much because they try to be as environmentally friendly as possible. Many of their crafts are made from paper and can be recycled – no plastic tat here. Plus some of their crafts are really easy for 3+ year children to do.  Then once you've finished making your craft you can play in character. I think the party bag fillers are our favourite and they are really affordable so you can stock up on doing a different one every day.
Perfect for children 3+ years
Party bag fillers from £2.65
9 – Stamptastic Ltd
If you haven't heard of Stamptastic where have you been? They make adding your kids name to everything they own for school soooo much easier! Just stamp and your done. I noticed they had these really cute fingerprint inkpad tins, one which is dinosaur themed and the other is fairy tales. Definitely something to keep the kids amused for a while on their own and we are washing their hands so much right now that you don't have to worry about ink stained fingers!
Perfect for kids aged 3+ years or under with supervision
Finger printing kit £8.99
https://stamptastic.co.uk/collections/craft/products/fingerprinting-tin-with-booklet-dinosaurs