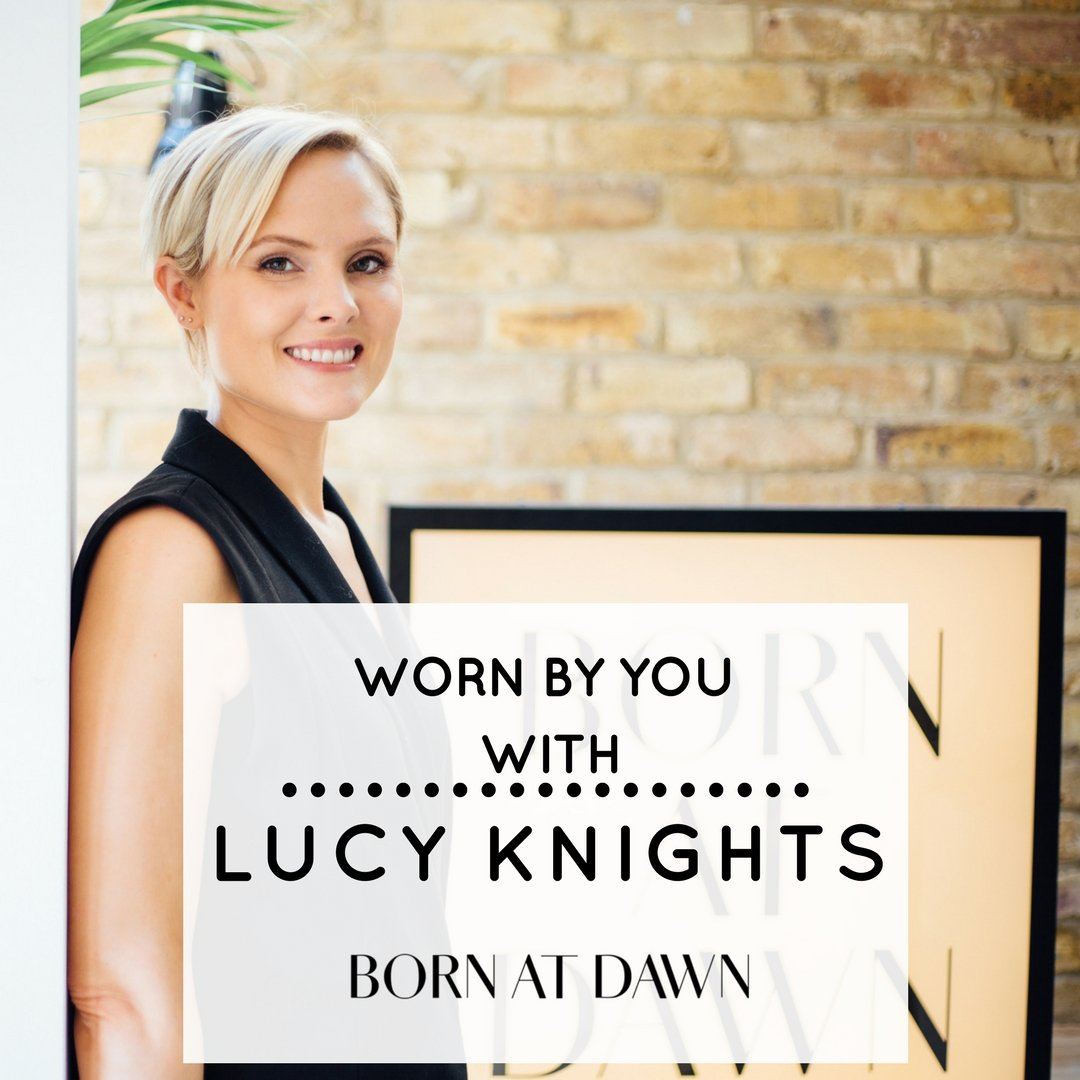 'Worn by You' with Lucy Knights from Born at Dawn
I am so incredibly delighted to have the lovely Lucy Knights answering our 'Worn by You' questions this week. Born at Dawn, is the home of the 'wardrobe heroes' -  beautiful, trendy and easy to wear fashion pieces that will make your wardrobe work harder than it's ever worked before! 
Read on to find out more about her amazing brand, her oh so effortless style and her style icons. 
Why did you start Born at Dawn?
After my life got busier as my career got more demanding and then I had children, I became frustrated with shopping and felt no one was catering for the way I wanted to shop. When I spoke to many other women, they felt frustrated too. They still wanted to look good but hadn't got much time to dedicate to it.
When you think about it… who has time to browse 18,000 styles of dresses at ASOS? And with stores like Zara, once you've found that amazing gem, within a week so have all your friends and most of Instagram. I wanted to bring a store that brought a well edited collection of discovery brands in limited quantities so they are more exclusive. I am constantly researching and I travel across Europe regularly to find my brands so my customers don't have to.
Women are starting to invest more in their clothes as they haven't got time to continually buying throwaway fashion. Plus, we are all becoming more conscious of the way this type of buying impacts the environment. Of course we can't always afford to buy designer pieces, so I focus on sourcing accessible luxury- the middle ground. When I buy pieces for BORN AT DAWN, quality is a key consideration along with making sure the pieces are versatile and can be worn many times in different ways to ensure a good cost per wear.
Our "Night In" service was devised for the women we spoke to that still like to touch and feel the product before they shop. It allows women to book an evening to invite their friends over and have the collection brought to them. An opportunity to shop, have a glass of prosecco and catch up with friends- all in the luxury of their own home.
How would you describe your style?
Feminine, effortless and often quite classic but with a twist.
What are your wardrobe staples?
Good fitting jeans, vests, oversized shirts and blazers. Every Autumn/ Winter, I always invest in a good coat because you wear it over anything.
What's your most loved item in your wardrobe?
I bought myself a classic Chanel bag a few years ago as a a gift to myself when I got a promotion. I always feel special when I get it out and I know it is timeless, so I can keep forever.
Would you say your style has changed since becoming a Mother?
I have less time to think so I've had to edit my wardrobe more. I wear less heels and everything has to be comfortable and wearable, but still look good of course.
What's your favourite store to shop in and why?
Liberty. I love the building itself and how they are always sourcing unusual pieces, new brands and bring a unique feel to a department store. Can't wait to head to their Christmas shop in a couple of months, always gets me in the festive mood.
Do you have a celeb style crush?
Maybe a bit cliché, but I've always admired Sienna Miller's style and how she puts her own spin on looks. I love her grown up chic these days and how she's adapted her style over the years. 
Where do you get fashion inspiration from?
Everywhere. Films, Instagram, other women… I went to Copenhagen Fashion Week a few weeks ago and there were so many great outfits!
What fashion trends are you loving for the Autumn / Winter?
I try to not focus too much on trends and go by instinct and how products feel, look, how easy they are to wear etc. It's important to me that I can get the pieces out next year and not be sick of them and I find that's often a problem if you buy too trend-led.
What key pieces are your favourite in the Born At Dawn collection?
Suncoo red faux fur coat. Beautiful colour and a real statement, but a timeless one. It will brighten up any outfit.
Samsoe lace top. I love lace and this has the more beautiful detail. This looks great by itself with jeans or trousers and under a blazer/ knitwear. On a practical note, I love the flattering shape and how you can easily wear a bra with it as sometimes the skinny strap lace camis are hard for some people to wear.
Maison Scotch Colour block top. Amazing colour combo and lurex detail.
Selected Femme chinos. I have rediscovered Chinos after seeing how the Danish girls wear theirs. Fold them up a couple of times and wear with your favourite flats or trainers. They make a great alternative to jeans. 
Rabens petrol blue leopard jacket and trousers. This is from our new Danish brand Rabens Saloner. You could wear this as a set or wear the jacket or trousers separately- really versatile.
Lastly, what's on the horizon for Born at Dawn?
After the success of the "Night In" service, I am now looking to expand the team and take on Fashion Stylists to run their own "Night In" businesses in the North and East London areas. Fantastic flexible working opportunities for people who love fashion.
I told you it was a good one! What's your favourite of her key pieces? I have my eye on the black lace cami. Let me know in the comments what you would choose.
I know you're going to want to visit Born at Dawn, so here is the link to Lucy's fab website: www.bornatdawn.com 
You can also follow her on instagram: @bornatdawn_
Until next week! 
Becks x