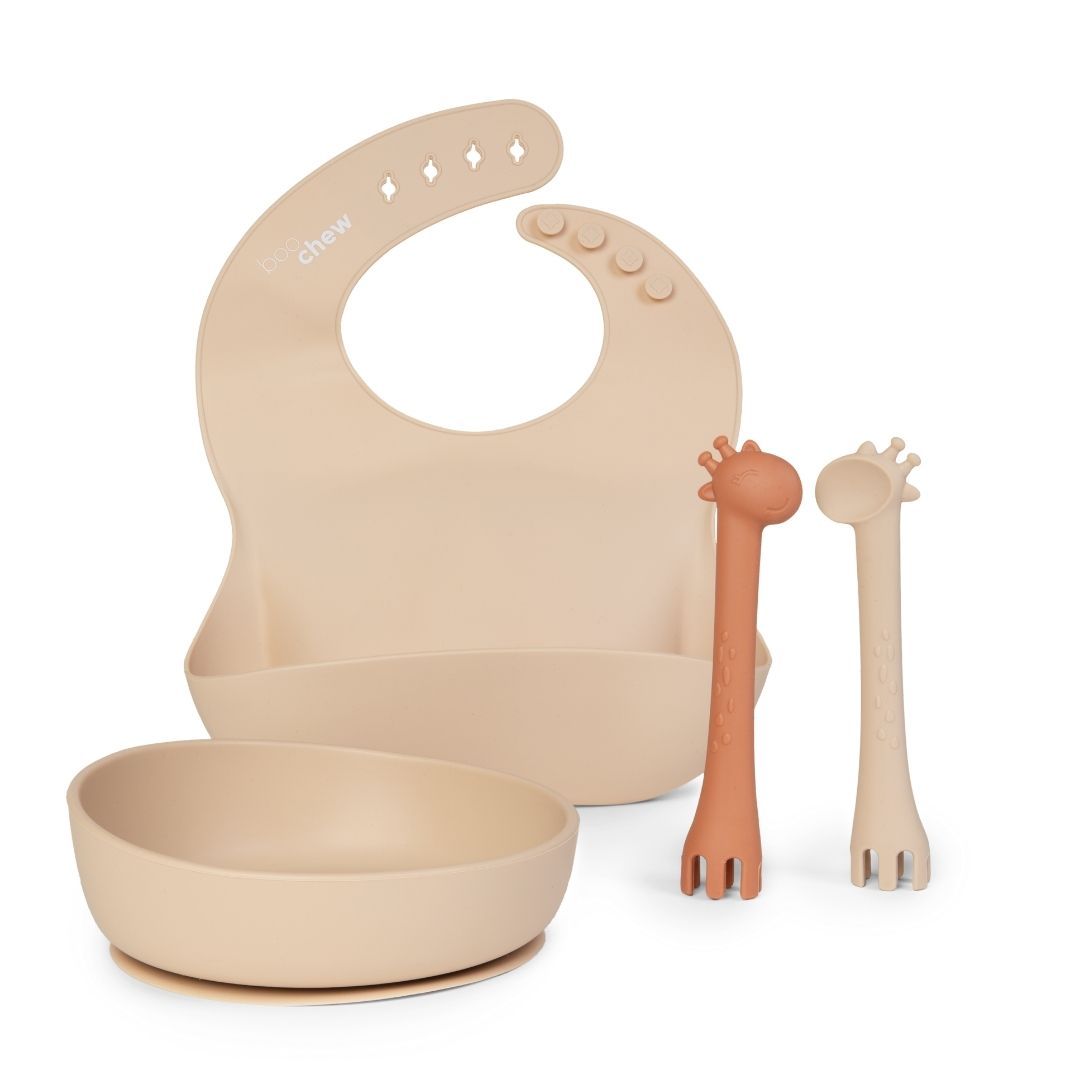 Let us start you off on your weaning journey the best way possible with our gorgeous weaning set including: oat silicone bowl, silicone bib and a customer favourite, our silicone Baby's First Utensils.
Featuring everything you need for weaning and feeding whether your baby is six months or a young toddler. Our complete weaning set also makes a great gift!
Our silicone bibs are waterproof, buttery soft and feature a rounded adjustable collar which is suitable for babies from 6 months - 3 years and won't dig into their neck. Our bib features a handy wide bucket pocket which helps catch any falling food or water, if you're doing open cup drinking! Easy to clean and dry instantly.  
Customer's love our silicone 2-in-1 fork and spoon, it makes a great first weaning spoon and sees you through to toddlerhood too. Shaped like a giraffe, the head features a shallow spoon which is great for babies who are learning to eat and the process of using a baby utensil. The feet end features a double fork which introduces your little one to the concept of fork in a safe and easy to use way as they they can scoop or stab the food. Please note that due to the angle of the spoon head it is more suitable for babies who predominantly use their right hand.
Utensils come as a set of two in oat and rust colour. 
Our silicone weaning bowls are shaped to help your little one feed with ease. They are wide and shallow so your baby and toddler can easily see and access their food. The slanted side aides them in scooping up food. Our bowls come with a suction base which helps keep the bowl in place on most surfaces. Made from silicone so is unbreakable, easy to clean, just pop in with the washing or in the top of your dishwasher.
Gift Box: Gift Box includes a Festive Wishes card with handwritten personalised message. Please let us know the message you would like included in the notes section when you order. 
Bowl inner dimensions: 143mm wide, highest side is 48mm, lower side is 34mm.
Material: 100% high quality silicone which is BPA free, lead, pvc and phthalate free.