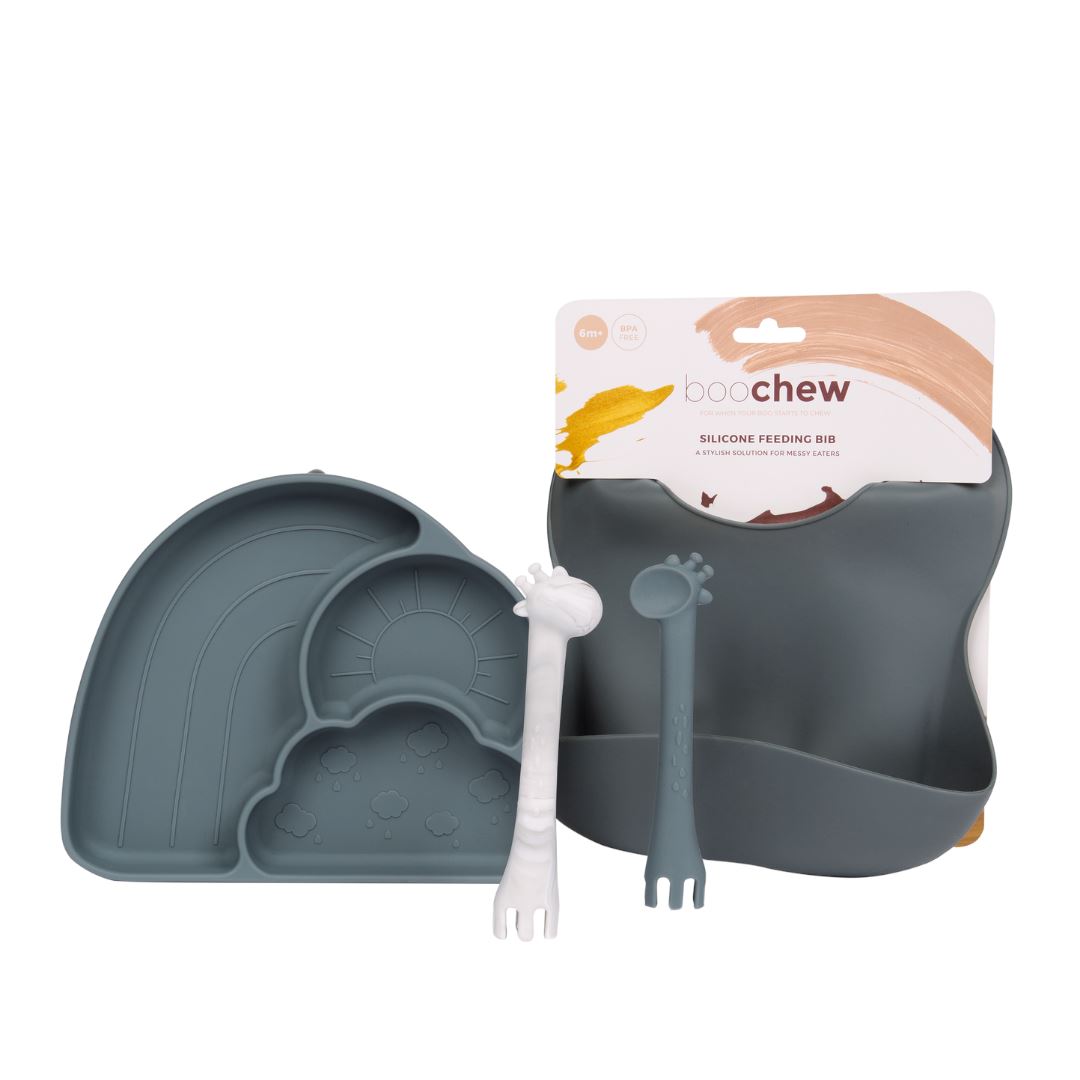 Rainboo Weaning Set
Graphite
We've combined our latest weaning must have, our Rainboo Silicone Suction Plate with our Award Winning Baby's First Utensils and Silicone Bibs to make the perfect weaning set.
Our Rainbow Silicone Divided Plate will work harder than anything else in your weaning tableware cupboard! It's perfect from the start of weaning as it's shallow enough for baby to see into the plate, but also deep enough to hold yoghurt, porridge and cereal. This suction plate then grows with your baby into the toddler stage and beyond and is great for the fussy eating stage as it divides food groups, and 'Makes Mealtimes Fun' with it's beautiful and engaging design. 
Boo Chew's Silicone bibs are second to none - buttery soft, but really sturdy. The bucket style pocket catches any stray food (which kids love to come back to later) saving floors from excess mess.  Our bibs are suitable for children aged 6 months plus as they feature a very generous adjustable collar. Boo Chew bucket bibs are waterproof, and easy to clean. 
Completing our Rainboo Weaning Set is our Award Winning 2-in-1 fork and spoon, an absolute customer and child favourite.  Shaped like a giraffe which instantly engages your little one, the spoon head is quite shallow so is great for the first stages of weaning for purees, yoghurt and porridge dipping. The feet end introduces your baby and toddler to the concept of how a fork works. The 'double fork' feet help to grab and scoop food, making meal time lots of fun. Please note that due to the angle of the spoon head it is more suitable for babies who predominantly use their right hand.
Our weaning set is super easy to clean and can be handwashed or popped in the top rack of your dishwasher. However, we do recommend handwashing all items as this keeps your silicone in the best condition. 
Material: Made from 100% food grade silicone, which is BPA, PVC, phthalate and lead free.
- Rainboo Plate Dimensions: 21cm x 17.5cm x 2.5cm 
Stuff we care about
Your child's safety is of the upmost importance to use that's why our products are:
Made from the high grade food-safe silicone
100% non-toxic – BPA, Phthalate and PVC free
Independently Safety Tested and meets British & European Safety Standard EN14372