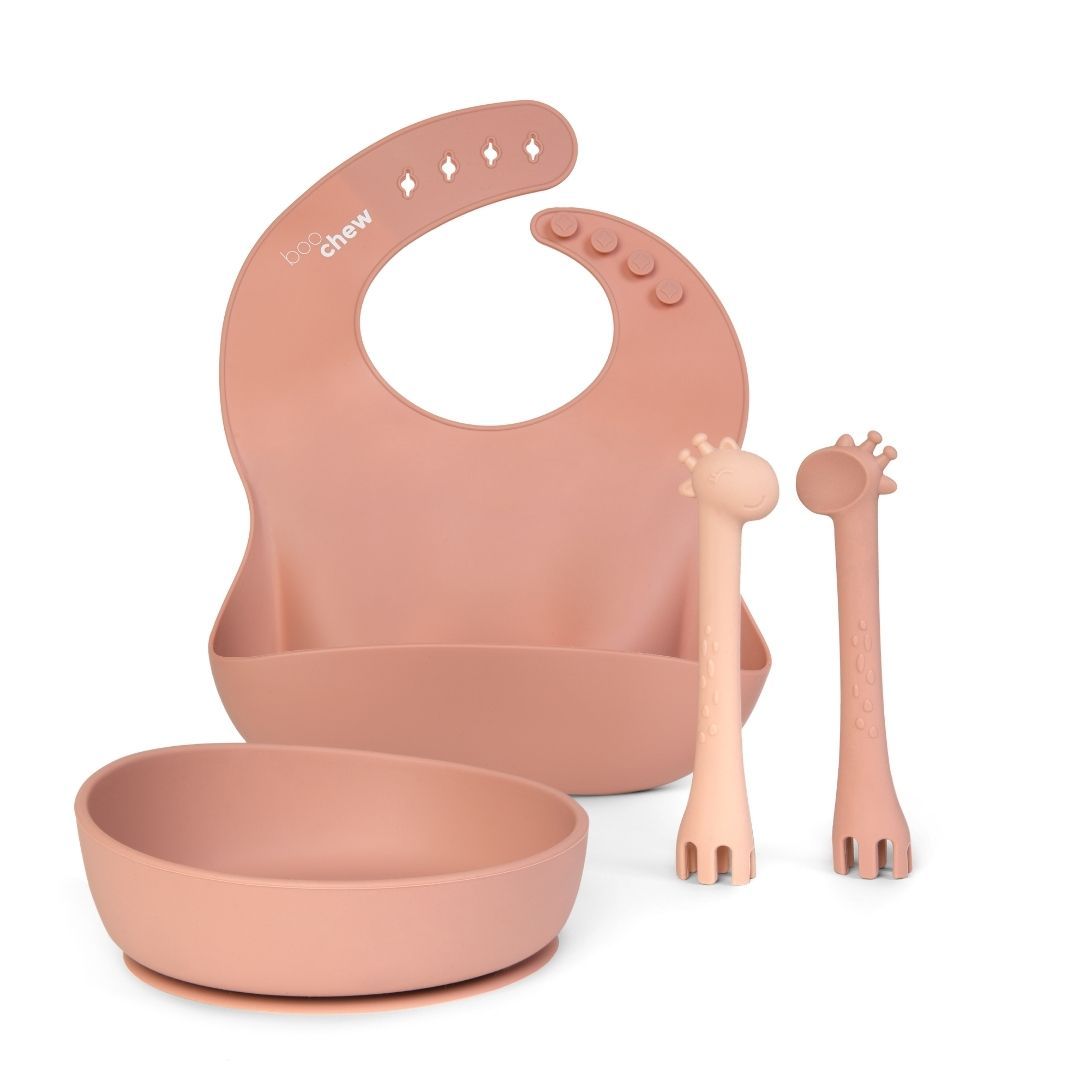 Complete weaning set in beautiful burlwood, a dusty mauve colour features our customer favourite silicone 2-in-1 fork and spoon, silicone bucket bib and silicone bowl. 
Our weaning bundle is suitable for babies from aged 6 months right through to toddlerhood. 
A matching set which is not only functional but beautifully stylish and we think would also make a great gift. Please remember to include a message if you choose the gift wrap option, you can add a personalised message in the 'cart' section.
Baby's First Utensils come in a set of two, in burlwood and blush. Shaped like a giraffe they are a 2-in-1 fork and spoon which complement baby-led weaning and if you have an independent baby who wants to hold their own spoon. Featuring a shallow spoon on one end which is ideal for the first stage of weaning and a double fork on the other which introduces your baby to how a fork works in a safe way, with baby scooping or stabbing the food. Our utensils will grow with your baby from the start of your weaning journey well into toddlerhood. Please note that due to the angle of the spoon head it is more suitable for babies who predominantly use their right hand.
Silicone bowls are shaped to help your little one feed with ease. Its wide but shallow base helps your baby and toddler easily access their food. The bowl's suction base sticks to most surfaces helping to prevent the bowl from moving around. Suitable for all foods including purees, porridge, finger foods and small main meals 
Silicone bib is super soft with an adjustable collar that will grow with your baby and still fit them when they are 3/4 years old! Bib is lightweight, waterproof, catches dropping food and water with its handy bucket pocket and is easy to clean. Dries instantly and easy to transport in your changing bag as folds up.
Gift Box: Gift Box includes a Festive Wishes card with handwritten personalised message. Please let us know the message you would like included in the notes section when you order. 
Bowl inner dimensions: 143mm wide, highest side is 48mm, lower side is 34mm.
Material: 100% high quality silicone which is BPA free, lead, pvc and phthalate free. 
Cleaning: Dishwasher safe or can be handwashed.